( Scroll down for English text )
Denne utstillingen er et samarbeid mellom de tre svenske kunstnerne Linn Lindström, Emanuel Svedin og Sasha Waltå.
Hva skjer med mikroplasten i havet, hva skjer med mikroplasten i hjernene, i tankene? Med denne utstillingen jobber kunstnerne med spørsmål som kretser om klimaforandringer, antroposentrisme og geopolitikk. Et kunstneropphold på Svalbard 2015 og samarbeid har ligget til grunn for arbeidet. I galleriet vises en stedsspesifikk installasjon bestående av skulptur, fleece, video, lys, og magnetisme.
Verkene baserer seg på historisk materiale som André-ekspedisjonen, samtidige diskusjoner om grensetrekninger og naturtilgang, følelsen av fremmedgjøring så vel som redsel for isbjørner.
≈
Dark Petrol Polar Fleece is the exhibition showed at Galleri Svalbard by Linn Lindström, Emanuel Svedin and Sasha Waltå. The artists work around the subjects of climate change, anthropocentrism and geopolitics. The collaboration started with a residence in Svalbard 2015. The gallery space bears a site specific installation of sculptural objects out of fleece fabric and plastic, video, light and magnetism.
Historical substance like the Andrée-expedition, contemporary discussions on land boarders and natural assets, as well as a feeling of alienation and fear of polar bears lay as a foundation of the show.
With the thought of a fossil process in mind the allegory here becomes a slow change towards a human apocalypse, a cyclic movement where leavings and
imprints take shape, get buried and yet hits the surface. Materials such as synthetic fibers, polyester and fleece become small small plastic particles which one can find in oceans, watercourses, marine plants and animals. Something happens with the micro plastics and the knowledge of micro plastic in out brains. Something happens to the thoughts.
≈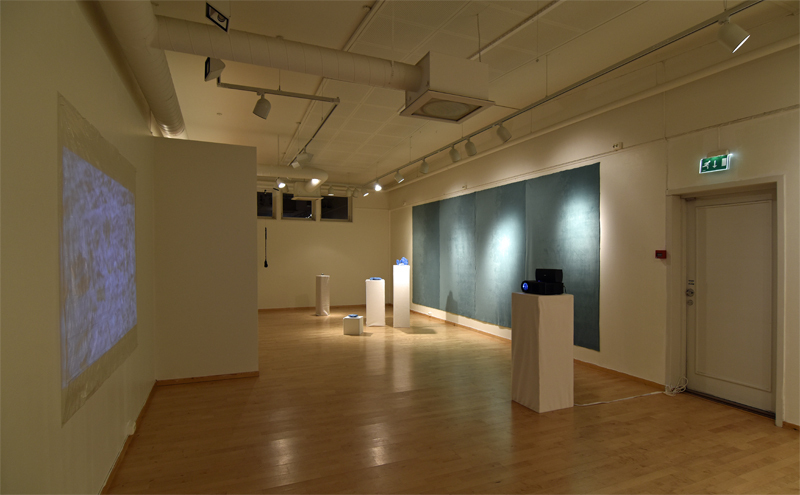 Lindström/Svedin/Waltå, Dark Polar Petrol Fleece, Installation view, Galleri Svalbard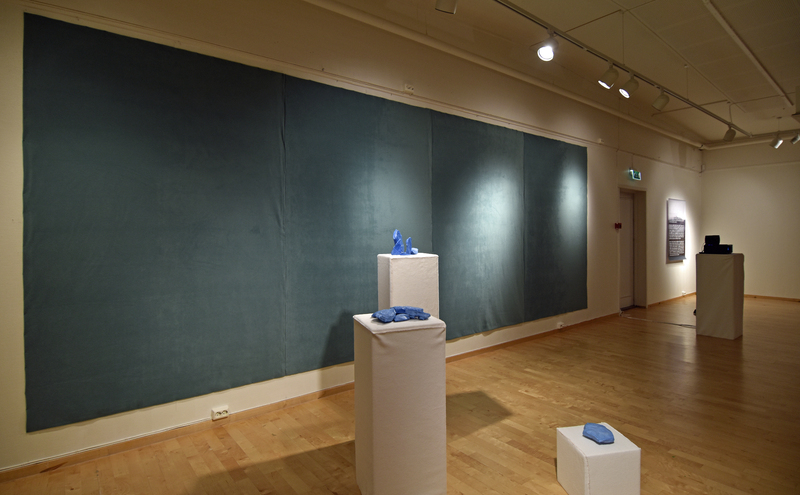 Lindström/Svedin/Waltå, Dark Polar Petrol Fleece, Installation view, Galleri Svalbard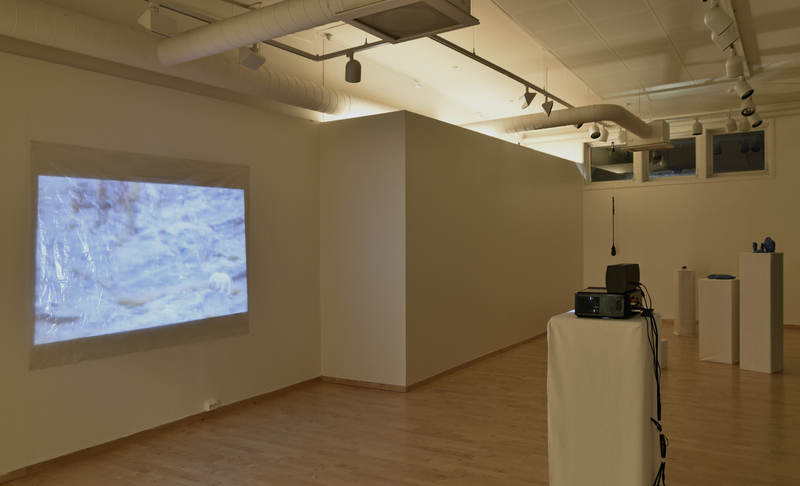 Lindström/Svedin/Waltå, Dark Polar Petrol Fleece, Installation view, Galleri Svalbard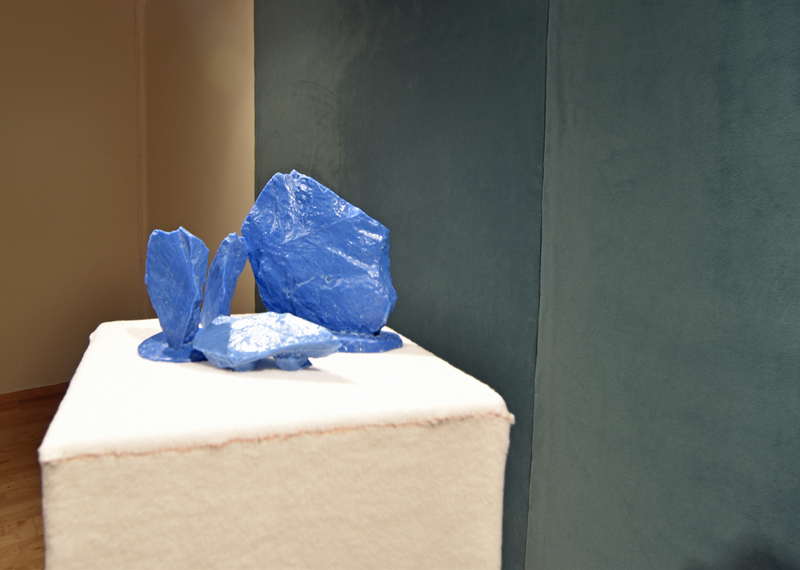 Lindström/Svedin/Waltå, Blue Fossils, Polyurethanplast, fleece-sokkler, 15x25 cm, 10 stk, Galleri Svalbard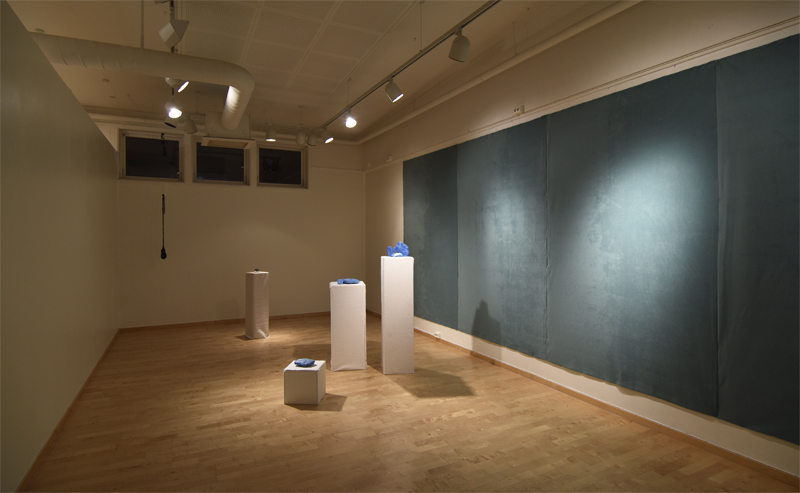 Lindström/Svedin/Waltå, Dark Polar Petrol Fleece, Installation view, Galleri Svalbard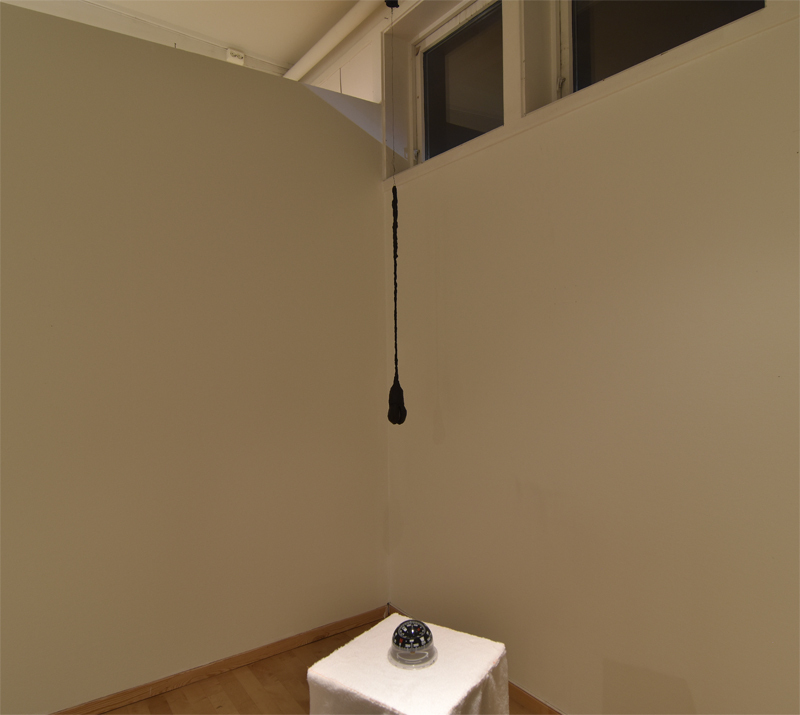 Lindström/Svedin/Waltå, Dark Polar Petrol Fleece, Installation view, Galleri Svalbard
Lindström/Svedin/Waltå, Spinn Spinn, båtkompass, magneter, motor, fleece-sokkel, Galleri Svalbard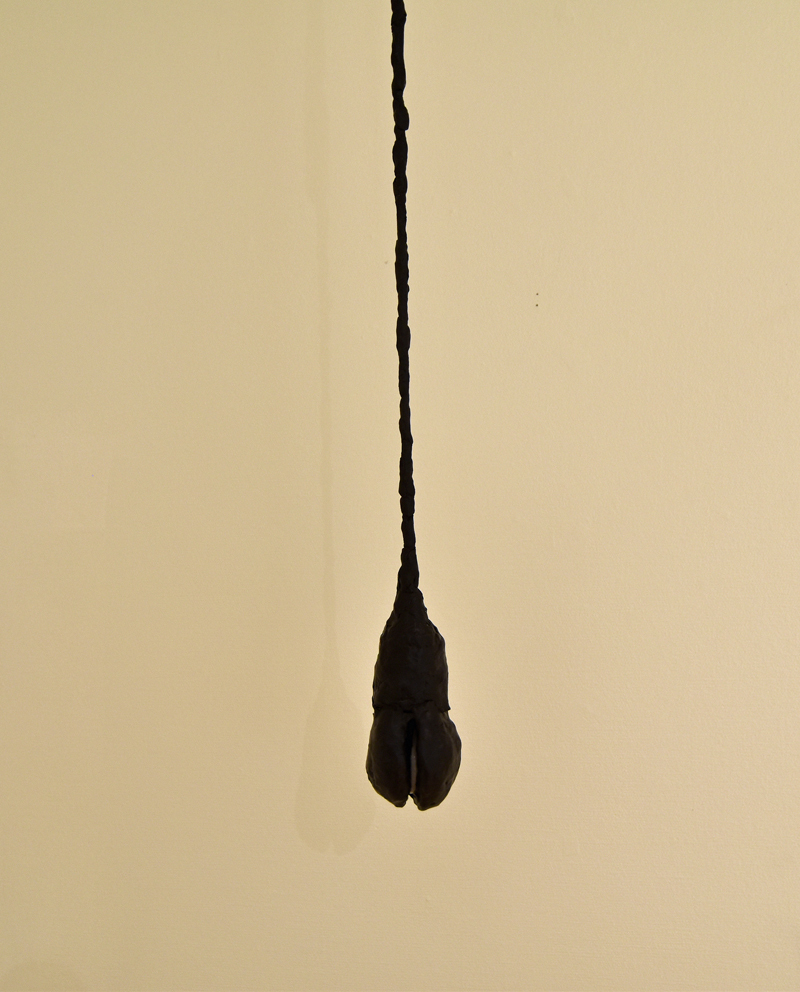 Lindström/Svedin/Waltå, Petrollium, vax, ljuskälla, motor, Galleri Svalbard