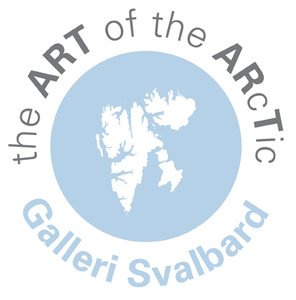 Kåre Tveter, lysets maler og ikke minst - Svalbards maler
Kåre Tveter, 'lysets maler i Norden', kom til Svalbard første gang i 1982, og ble betatt av lyset her på Svalbard. Kåre Tveter samlingen inneholder totalt et 40 talls bilder med hovedvekt på oljemalerier og motiver hentet fra Svalbard, men også motiver fra fastlandet er representert i samlingen.

Kåre Tveter er lysets maler. Med varhet fanger hans lerreter inn strukturer i naturen, nyanser i lysets spill over skogene, slettene, myrene og innsjøene i hans kjære østlandsnatur og siden 1982 også Svalbards storslåtte landskap med sine dramatiske lysskiftninger.

Som hos impresjonistene før ham, er det imidlertid ikke det konkrete motiv som står mest sentralt hos Tveter. Ofte fornemmes det mer enn det sees. På samme måten blir de figurative elementene ofte til spor, antydninger som viskes vekk eller suges opp av lyset, rommet.

Men Kåre Tveter er ikke bare lysets maler. Han ser naturen som bærer av mystiske krefter som går ut over det visuelle, og søker å gi sine arbeider en dobbelklang av både et ytre og et indre landskap.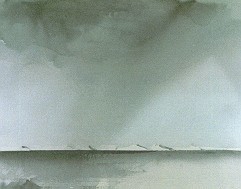 Naturen er for ham en inspirator ikke til objektiv gjengivelse, men til å uttrykke egne følelser, sitt eget indre landskap.
Bildene gis herved en intim, subjektiv dimensjon, og her møter også Kåre Tveter sitt publikum.

Karin Hellandsjø, sjefskonservator




Kåre Tveter - samlingen ble i 1994 "donert" til Svalbard av maleren Kåre Tveter. Samlingen består av 8 akvarell / papir, 4 silketrykk og 28 olje / lerret.
Hans eldste bilde i samlingen er fra 1962, mens det yngste er fra 1994.
Galleri Lyshuset i Sør-Odal kommune - Skarnes, er også et permanent galleri som hovedsakelig kun viser kunst av maleren Kåre Tveter. Galleri Lyshuset åpnet 25. oktober 2002 av HKH Dronning Sonja.
~
Kåre Tveter, the "painter of the light in the North", came to Svalbard for the first time in 1982. The light here in Svalbard captivated him. Kåre Tveter collection contains forty paintings mostly oil on canvas with motifs taken from Svalbard, but also scenes from the mainland.
Kåre Tveter is the painter of the light. With sensitivity his canvases captures the structures hidden in nature, the shades of lights above the forests, lowlands, marshes and lakes of his beloved eastern nature and since 1982 also Svalbard magnificent landscape with its dramatic shifting of light.
However, Tveter ´s paintings do not have a specific subject, as for the Impressionists before him. Often they alleged more than actually show. In the same way, the figurative elements often trace the room, sugestions that are erased or removed by the light.
Nevertheless, Kåre Tveter is not only the painter of the light. He sees nature as a bearer of mystical powers that go beyond the visual and he aims to give to his artworks a double clang of both an external and an inner landscape.
Nature is for him a source of inspiration not of objective representation, but a way to express his own feelings, his own inner landscape.
The paintings hereby give an intimate, subjective dimension, that meet Kåre Tveter`s audience.
Karin Hellandsjø, chief curator
Kåre Tveter Collection was "donated" to Svalbard by Kåre Tveter in 1994. The collection includes 8 watercolour on paper, 4 silkscreen and 28 oil on canvas.
The oldest work in the Collection is from 1962, while the newest is from 1994.
Galleri Lyshuset in South Odal - Skarnes, is also a permanent gallery that mainly shows only art of Kåre Tveter.
Galleri Lyshuset opened the 25 October 2002 by HRH Queen Sonja.
Installation views Kåre Tveter Samlingen at Galleri Svalbard