Ellen Linde-Nielsen startet sin kunstutdannelse i voksen alder etter bl.a. å ha arbeidet som sekretær ved Det Kgl. Slott i åtte år.
Utdannelsen ble tatt ved AOF Tegne- og Maleskole, Finsrud kunstskole og Oslo Tegne- og Maleskole samt mange forskjellige kurs bl.a. utstillingsteknikk, utsmykningkonsulent, kunsthistorie mm. Mottok Tegnerforbundets reisestipend i 1998 som ble brukt til et 3 ukers opphold i Longyearbyen og båttur til 80° Nord. Det har etterhvert blitt 2 opphold i Kunstnerhytta i nå og mange kortere opphold i Longyearbyen og fire utstillinger i Galleri Svalbard. Hun har også hatt Svalbardutstillinger i og utenfor Oslo.
Videre har hun arbeidet i Galleri Tonne i Oslo i fire år og vært kunstnerrepresentant i Oppegård Kunstforening i en årrekke.
Linde-Nielsens arbeider finnes langt utenfor Norges grenser. bla. er hun representert i National 11 September Memorial & Museum på World Trade Center-tomten i New York. Hun har deltatt i kollektivutstillinger som Statens høstutstilling og Telemarksutstillingen i Norge og Art Addiction i Stockholm samt i utstillinger i New Jersey, USA. Hun er også omskrevet i Polarklubbens årbok for 2015.
Ellen Linde-Nielsen har vært beskrevet som en «stillesøkende kunstner». Tegningene hennes er enkle, men uttrykksfulle. Hovedsakelig arbeider hun med akvareller og tegninger eller blandingsteknikker som akvarell/akryl, akvarell/kull, akvarell/tusj, pastell og pastell/kull mm.
Hva som gjør henne så betatt av Svalbard? «Umulig å sette ord på egentlig - Det er storheten i det brutale, men vakre poetiske landskapet som forandrer seg i takt med årstidenes lys, de sterke fargene vår, sommer, høst og det mørkeblå vintermørket, kontrastene og linjene i landskapet....»
~
Ellen Linde-Nielsen started his art education in adulthood by, in addiction to other things, having worked as a secretary at the Royal Castles for eight years.
She studied at the AOF Tegne- og Maleskole, Finsrud kunstskole and Oslo Tegne- og Maleskole. Also Ellen Linde-Nielsen took many different courses including one in exhibition technique, one as decoration consultant and one in history of art. She received a travel grant from the Tegnerforbundets in 1998 that she used for a three weeks residency in Longyearbyen and a boat trip to 80 ° North. After the first time, the residency at Galleri Svalbard became two. Until now she has been many time in Longyearbyen for short periods. She had four exhibitions at the Gallery Svalbard. She also had exhibitions about Svalbard in and around Oslo.
Furthermore, she has worked in Gallery Tonne in Oslo for four years and has been an artist representative of the Oppegård Kunstforening for many years.
Linde-Nielsen's artworks are far beyond Norway's borders, blue. She is represented in the National 11 September Memorial & Museum at the World Trade Center site in New York. She has participated in group exhibitions such as the Statens høstutstilling and Telemarksutstillingen in Norway and Art Addiction in Stockholm as well as in exhibitions in New Jersey, USA. She is also rewritten in Polarklubbens årbok for 2015.
Ellen Linde-Nielsen has been described as a "still growing artist." Her drawings are simple but expressive. Mainly she works with watercolors and drawings or blending techniques such as watercolor / acrylic, watercolor / charcoal, watercolor / markers, pastel and pastel / charcoal mm.
What makes her so captivated by Svalbard? "Impossible to put into words really – she explains - There is grandeur in the brutal but beautiful poetic landscape that is changing in step with the seasons light, the bright colors in spring, summer, autumn and the deep blue of winter darkness, contrasts and lines of the landscape .... ».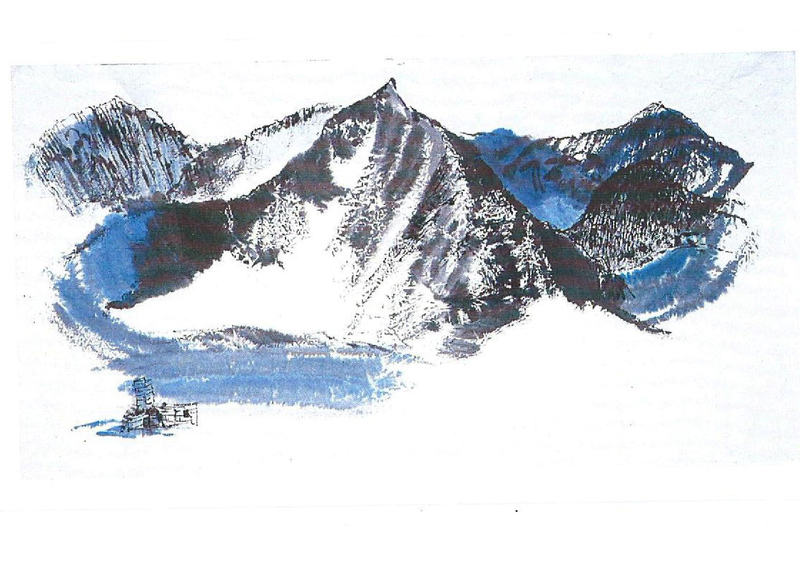 Postkort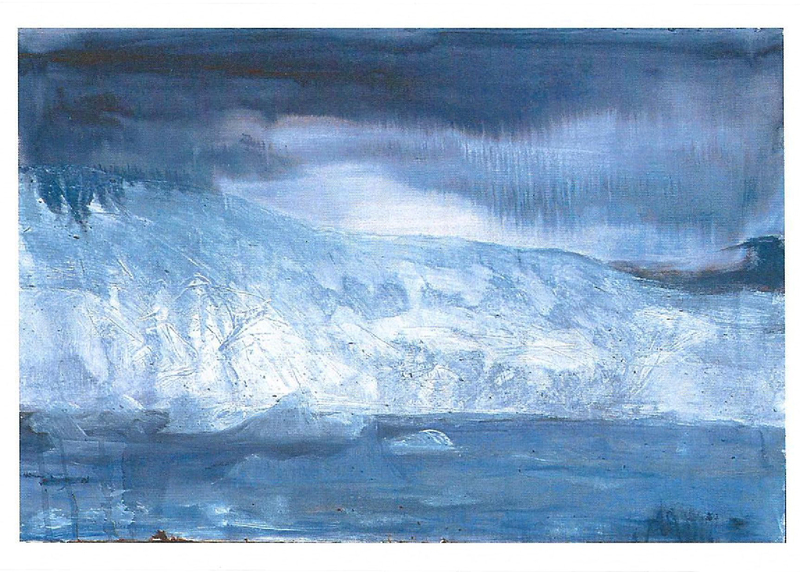 Postkort