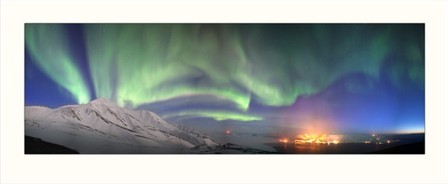 To-foto AS i Harstad har siden 1971 dokumentert og fremvist Svalbard gjennom flotte bilder. Dette arbeidet har resultert i mange postkort, kalendere og bøker. Bak hvert eneste bilde står en tålmodig fotograf, eller – i enkelte tilfeller – en fotograf som har vært på rett sted til rett tid.
Boka "Svalbard – Heart of the Arctic" ble lansert i Galleri Svalbard i juni 2008. Samtidig ble det avholdt en utstilling med bilder fra boka. Noen av disse fotografiene har vi for salg i galleriet. Bildene viser Svalbard fra forskjellige sider, både med tanke på årstider, natur, værforhold og dyreliv. Fotografene har oppholdt seg mye på Svalbard, og har sett deler av Svalbard ikke alle har mulighet for å komme til. Arbeidet har resultert i noen udødelige motiver.
Fotograf Tommy Simonsen er prosjektansvarlig og står sammen med Mads P. Tellefsen og Bjørn Rasch-Tellefsen bak bildene. I tillegg til fotografiene som presenteres i Galleri Svalbard, kan andre bilder fra boka "Svalbard – Heart of the Arctic" kjøpes i ønsket størrelse gjennom To-fotos hjemmesider.
~
To-foto AS from Harstad has documented and displayed Svalbard through great pictures since 1971. As a result of this work there have been produced many postcards, calendars and books. Behind every picture stands a patient photographer, or - in some cases - a photographer who has been in the right place at the right time.
The book Svalbard - Heart of the Arctic was launched in Galleri Svalbard in June 2008. It also held an exhibition of photos from the book. Some of these photographs are for sale in the gallery. The pictures show Svalbard from different sides, both in terms of seasons, nature, weather and wildlife. The photographers have stayed for a long time on Svalbard, and have seen parts of Svalbard not everyone has the opportunity to get to. The work has resulted in some immortal motives.
The photographer Tommy Simonsen is the project manager together with Mads P. Tellefsen and Bjorn Rasch-Tellefsen who are behind the images. In addition to the photographs presented in Gallery Svalbard, other photos from the book Svalbard - Heart of the Arctic can be purchased in the desired size through To-foto's webpage.